Trip Details for the 7-day Inca Trail Package to Machu Picchu
ITINERARY
CLASSIC INCA TRAIL TOUR PACKAGE TO MACHU PICCHU ITINERARY 2022-2023
Day 1: YOUR ARRIVAL IN CUSCO
As soon as you arrive in Cusco, our representative will greet you and take you to your hotel. You'll receive a short briefing before having the rest of the morning rest and adjusting to the altitude. In the afternoon, take some time to explore the city at your leisure. You can enjoy the beautiful sights of Cusco's indigenous and colonial heritages. In the evening, immerse yourself in Cusco's vibrant nightlife, with some of the best music and dancing the city has to offer. You can also sample the unique Peruvian cuisine at one of the numerous traditional Peruvian restaurants. Don't miss out on the opportunity to taste world-renowned Peruvian cuisine, such as Virgilio Martinez's restaurant Senzo.
3-star Accommodations: Maytaq Wasin or Waman Qorikancha
4-star Accommodations: Costa del Sol Ramada, Casa Andina Private Collection, or Novotel Hotels
Recommendations: We highly recommend walking around the city center of Plaza des Armas and visiting the vivacious, aromatic, and culturally diverse San Pedro Market.
Day 2: CUSCO – PISAC – SALT MINES – MORAY & OLLANTAYTAMBO
On the morning of your trip, we'll get you from your lodging in Cusco at 7:30 AM in our confidential van. We'll go to the Consecrated Valley of the Incas and make a stop at the Mirador of Taray where you can partake in a stunning perspective on the Urubamba Valley and its conventional cultivating towns. En route, you'll perceive the way farming in the Consecrated Valley has remained generally unaltered for the beyond 500 years. Our next stop is the archeological site of Pisac, where you can investigate the Inca city for around two hours. You'll see the painstakingly designed cultivating porches cut into the mountain, the Inca burrow, and the strict region of this significant fortification. Subsequently, we'll visit the vivid market of Pisac and afterward drive to the lovely city of Urubamba for lunch.
The Nursery of the Incas
Then, we'll visit the archeological site of Moray, known as "The Nursery of the Incas". The porches cut into the bowl-molded arrangement have novel attributes and different microclimates, which persuaded archeologists to think that the Incas involved them to find the ideal developing circumstances for their yields. Proceeding with our excursion to the pilgrim town of Maras, we'll peer downward on the pre-Inca salt mines called Salineras. These mines have been gone down through innumerable ages and utilized for salt extraction since before Inca times. The extraordinary properties of the water in this district bring about the creation of uncommon and important salts, including normally happening pink salt.
At long last, we'll make a beeline for Ollantaytambo and investigate the Inca town that has stayed in one piece since Inca times. You'll get an opportunity to investigate the monstrous Inca ruins with a learned aide. Visit the design of the Sun Sanctuary at the highest point of the considerable patios and find out about the site's significance to the Inca during the start of the Spanish success. You'll go through the night at your lodging in Ollantaytambo, prepared to begin the Inca Trail the following day.
2-star Accommodations: Veronica View Hotel
3 star Accommodations: Pakaritampu Hotel or El Alberge
We're sorry, but there are no 4-star hotels in Ollantaytambo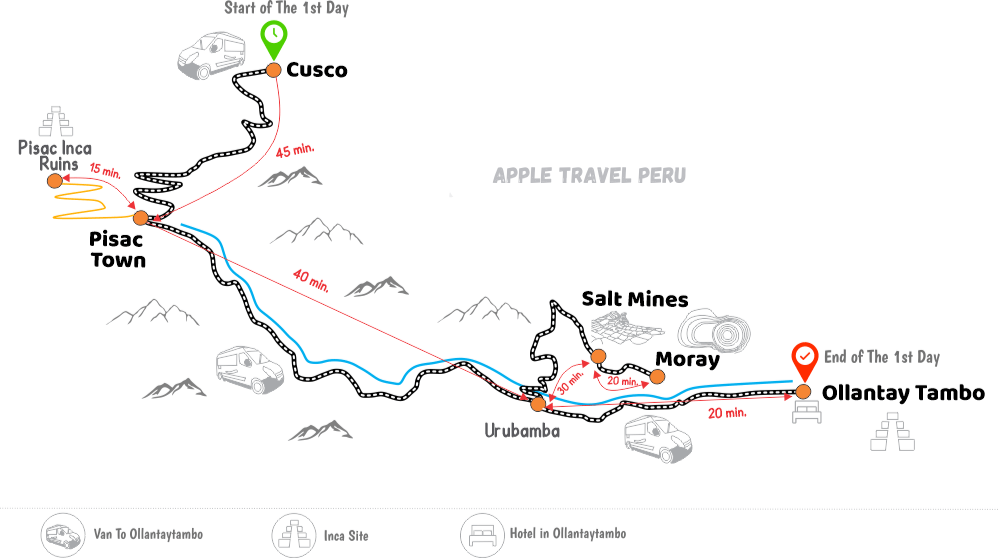 Day 3: OLLANTAYTAMBO – KM 82 – WAYLLABAMBA – AYAPATA
Today, begins your adventure of a lifetime, the Classic Inca Trail to Machu Picchu!
At 6:00 AM, we will collect you from your hotel in our private van, and drive to Piskacucho, located at km 82, where the Classic Inca Trail commences.
Once we reach km 82, around 8:30 AM, we will take some time to prepare ourselves, use the facilities, and apply sunscreen and insect repellent. At the first control point of the Inca Trail, you will need to present your entrance tickets, original passports, and (if applicable) student card.
Beginning from 2,720m/8,923ft, we will follow the Vilcanota Stream on our most memorable day of the journey, which is moderately simple, permitting us to adjust to the height step by step. This section of the trail offers stunning views of the Inca Fortress Huillca Raccay, Llactapata (also called 'Patallacta'), the Urubamba mountain range, the Andes Mountains, and the snow-capped peak of 'W'akay Willca' (5,860m/19,225ft), otherwise called Veronica.
We will show up at our most memorable campground, Ayapata, following 90 minutes of climbing to the little town of Wayllabamba (3,000m/9,842ft) in the mild green valley of a similar name. Please note that temperatures at night are around 5°C/41°F depending on the month.
Throughout the day, we will enjoy breathtaking views of Veronica Mountain (5,860m/19,337ft), the verdant valley around us, and a diverse array of flora and fauna.
Meals included: Breakfast, lunch, snacks, afternoon tea, and dinner
Accommodation: Camping facilities
Distance: 12km/7.5mi (6 hours more or less of hiking)
Difficulty: Easy/Moderate
Day 4: AYAPATA – PASS – PAQAYMAYU – CHAQUICOCCHA
Our second day on the Inca Trail starts early with a hot breakfast before we begin our steep ascent towards the highest pass of Abra de Warrmihuañusca, also known as 'Dead Woman's Pass' at an elevation of 4,000m/13,779ft. Reaching the top will provide a real sense of accomplishment. We'll have an opportunity to witness an array of bird species, including the beautiful hummingbirds. Also, the region is abundant in native plants, and we'll have plenty of time to admire the 'Polylepis' or Q'ueuña trees, which are unique to the Andean landscape.
After lunch, we'll continue our trek up to the Runkuraqay Pass, located at almost 4,000m/13,123ft, which takes approximately two hours. Along the way, we'll have the chance to appreciate the beautiful scenery and take a break if needed. We'll arrive at our campsite by 5 PM, where temperatures drop to around 4°C/39°F during the night.
Meals included: Breakfast, lunch, afternoon tea, and dinner
Accommodation: Camping facilities
Distance: 16kms/10mi (9 hours more or less of hiking time)
Difficulty: Moderate/challenging

Day 5: CHAQ'ICOCHA – PUYUPATAMARCA – WIÑAY WAYNA
This will be the most impressive day so far; keep this in mind as you ascend on day three. we wake up for breakfast at 6 AM and start the day with a gentle climb to visit the archaeological site of 'Phuyupatamarca' ('Town in the Clouds'). Here, we will reach the third highest point on the Inca trail (3,680m/12,073ft). The views of the mountains, canyons, and surrounding areas are simply spectacular!
The Inca site of 'Phuyupatamarca', is located a few minutes walk to the third pass. Following visiting this site, we will continue walking down 3,000 stairs through the cloud forest to the impressive agricultural Inca site of 'Intipata'. After taking some time to visit this site, we will continue on until we arrive at our third campsite of Wiñay Wayna. (2,680m/8,792ft).
On this day we will only walk for about 4 to 5 hours and we will arrive at camp by lunchtime! Temperatures during the night are about 12º C/56°F.
Following a short walk from our campsite is the famous Inca site of 'Wiñay Wayna' ('Forever Young'). Even if you are feeling tired after your day's trek, it's a moment you cannot miss, the most impressive site on the Inca trail.
Meals included: Breakfast, lunch, afternoon tea, and dinner
Accommodation: Camping facilities and hot showers
Distance: 10kms/6.2mi (5 hours more or less of hiking)
Difficulty: Moderate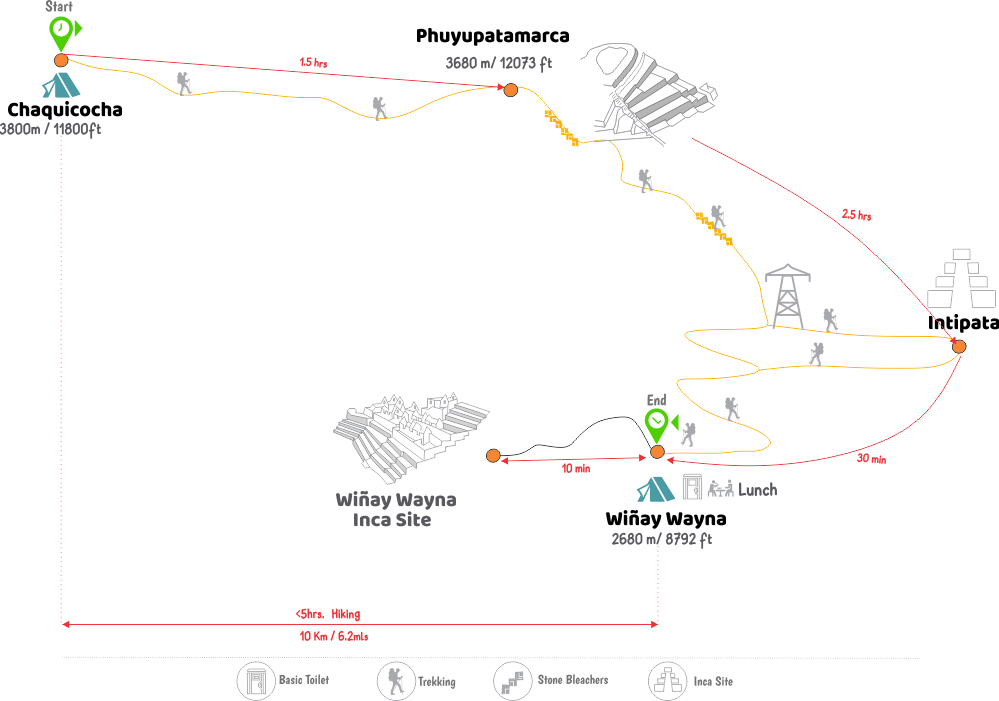 Day 6: WIÑAY WAYNA – MACHU PICCHU – CUSCO
On the fourth day of your journey along the Inca trail, you'll be well en route to the radiant Machu Picchu Fortification. As early as possible at 4:00 am, now is the right time to get up and appreciate breakfast prior to setting out on the last leg of your excursion. Beginning instantly right now is critical to guarantee that you show up at The Sun Door by 6:00 am, where you'll observe the dazzling magnificence of the Citadel as the sun rises. The view is genuinely stunning and will leave you feeling astonished.
While taking in the staggering perspectives, you'll likewise be struck by the truth of the Inca nation's exhausting excursion to this far-reaching sanctuary of Machu Picchu. We will then walk downhill toward the Machu Picchu Bastion at a height of 2,400m/7,872 ft. In the wake of strolling for 40 minutes, we will show up at the Bastion's entry from the top through the 'Place of the Gatekeepers'. Here, you can catch the well-known postcard pictures of Machu Picchu, so try to have your camera prepared. In the wake of partaking in the amazing perspectives, we'll continue to the control point, where we will enlist and leave our effects. This is an essential move toward guaranteeing the safeguarding and security of this striking archeological site.
The set of experiences and culture of Machu Picchu
To begin, your guide will provide you with a complete visit through the remnants, which will require roughly two hours. During this time, you'll have the chance to see the main pieces of Machu Picchu. Also, your aide will teach you about the remaining set of experiences and their importance. You'll figure out how Machu Picchu is separated into three areas: rural, private, and strict. Your aide will furnish you with nitty gritty data about every area and its one-of-a-kind elements. You'll likewise get the opportunity to clarify some pressing issues and take part in conversations with your aide. After the visit, you'll have a more profound comprehension and appreciation for the set of experiences and culture of Machu Picchu.
After the visit, the people who have booked ahead of time for the additional climb up Huayna Picchu have the opportunity and energy to partake in the perspectives all alone. Whenever you've had your fill of the outstanding perspectives on Machu Picchu, you'll bring the transport down to Aguas Calientes for lunch (excluded). Contingent upon your train flight time, you may likewise possess energy for some shopping, touring, or a visit to the historical center or underground aquifers.
The Campaign Train
The Campaign Train at 2:55 or 3:20 pm will return you to Ollantaytambo, following the astounding Urubamba Waterway. The gully is restricted, and the waterway has numerous wonderful segments of whitewater. Assuming you look in high on the lofty ravine wall, you can likewise see Wiñay Wayna from the train! Back at Ollantaytambo, your driver will meet you at the exit from the train station to return you to your inn in Cusco in our confidential vehicle. You can hope to show up at your lodging around 7:00 pm.
Meals: Breakfast
Distance: 6kms/3.7mi
Difficulty: Easy
3-star Accommodations: Maytaq Wasin or Waman Qorikancha
4-star Accommodations: Costa del Sol Ramada, Casa Andina Private Collection, or Novotel Hotels
***IMPORTANT:
On the 4-day Inca Trail, we will be doing circuit #3 and there is no way to do another circuit unless you buy an additional entrance to Machu Picchu.
You can upgrade to the Vistadome Train for the same times, 2:55 pm or 3:20 pm, 4:22 pm, or 4:43 pm. The cost is $67 USD.
Early trains can be organized by request and it has to be done by booking time.

DAY 7: CUSCO – RAINBOW MOUNTAIN – CUSCO
We're excited to take you on a memorable adventure to Rainbow Mountain! We'll start bright and early, picking you up from your hotel at 4 am. The journey to the trailhead at Llacto (4,638m/15,216 ft) takes approximately 3 hours through the South Valley. During the drive, you'll have plenty of opportunities to enjoy the stunning views of Inca terraces, traditional villages, and towering Andean peaks.
At breakfast, you'll be greeted by herds of alpacas and llamas, which is sure to be an entertaining and unique experience. Once we reach the trailhead, we'll embark on our hike, following a gentle stream. Along the way, you'll catch breathtaking glimpses of the Ausangate Mountain and glaciers. You'll also have the opportunity to meet and learn from locals who still preserve their traditional Quechua culture. Discover the meaning behind their traditional clothing and the significance of the hats worn by the men. If you'd like, your guide can even teach you a few Quechua words!
Our final destination, Rainbow Mountain
After a 1.5-hour hike, we'll reach our final destination, Rainbow Mountain (5,020m/16,466ft). The unique beauty of the area is sure to leave you in awe. You'll have plenty of time to explore and take pictures or just sit back and enjoy the stunning views. We'll spend approximately 30 minutes at the top, and for the adventurous souls, there's an optional hike to the top of the Red Valley that takes about 45 minutes longer to get back to the trailhead.
As we hike back down the same way we came, it takes about an hour. We'll enjoy a delicious lunch prepared by our cook before beginning our journey back to Cusco, which takes approximately 3 hours. We'll drop you off at your hotel in Cusco around 5 pm. If you have an evening flight, we can arrange transport to the airport for you.
Meals included: hot breakfast & lunch
Difficulty: moderate to challenging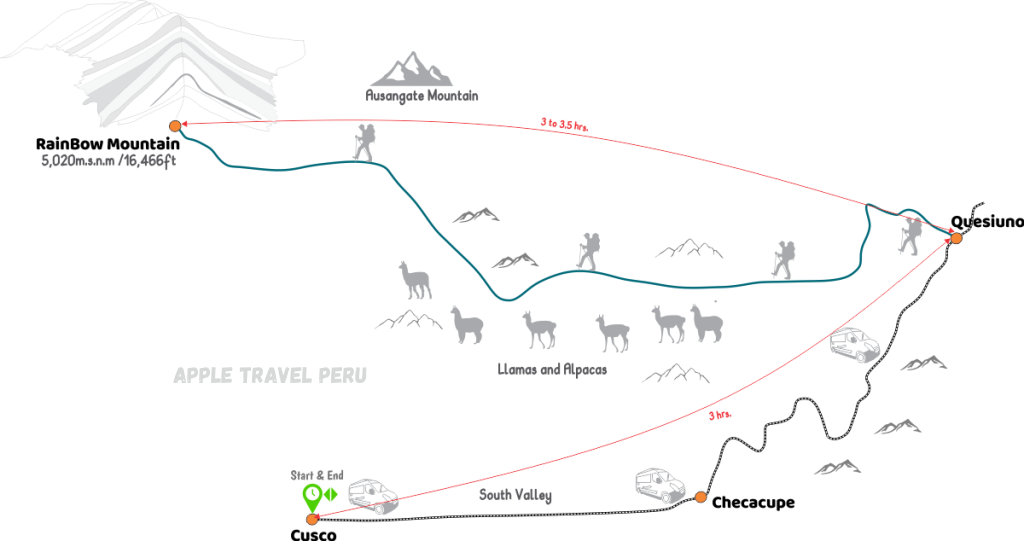 Price & Availability
BEST PRICE FOR THE INCA TRAIL PACKAGE TO MACHU PICCHU 7 DAYS
The 7-day Inca Trail to Machu Picchu is available on any date that it's best for you as long as we have a minimum of 2 people.
Best price without hotels: $877 USD per person
Best price with 3-star hotels: $1037 USD per person
Best price with 4-star hotels: $1277 USD
***This price includes the extra porter who will carry your belongings of 7 kgs/15.50 lbs along the Inca Trail. We will provide you with a duffel bag.
DISCOUNTS
Under 18 years old: $30 USD. Please send us a copy of your passport at the time of booking.
Under 12 years old: $40 USD. Please send us a copy of your passport at the time of booking.
Group of 5 or more: $30 USD. All you need is to book the trek together at the same time.
EXTRAS:
Sleeping bag: $20 USD
Air Mattress: $20 USD
Hiking poles: $15 USD for the whole trek.
Personal tent: $30 USD
Additional night in Aguas Calientes: from $60 USD
Huayna Picchu Mountain: $75 USD
Vistadome Train: $67 USD
**Huayna Picchu Mountain is an optional trek within Machu Picchu Citadel which does not include a guide. The climb is usually done on your own after your tour of Machu Picchu Citadel. If you would like the extra hike to be guided, please request it in advance. There is an added cost for this extra guided tour.
Inclusions
WHAT'S INCLUDED FOR THE 7 DAYS INCA TRAIL PACKAGE TO MACHU PICCHU IN 2023?
Pick-up at your hotel
Private transport from Cusco to Piscacucho (start of the trek)
4 person Igloo tents for only 2 trekkers (large and comfortable)
Comfortable foam mattress
Camping pillow
English-speaking professional guide experienced in mountain ranges
Meals as indicated in the itinerary (optional: vegetarian food with prior request)
First-aid kit including an emergency oxygen tank
Porter to carry tents, food, and cooking equipment
Extra porter for your belongings, this means you will need only a day backpack to carry the things that you will be using for the day!
Hot water for washing purposes
Boiled water for your drinking bottles at every mealtime
Expedition Train from Aguas Calientes to Ollantaytambo and private transport to Cusco
Admission Ticket to the Inca trail and Machu Picchu Archaeological Complex
Guided tour in Machu Picchu
Bus ticket from Aguas Calientes to Machu Picchu
Dining and cooking tents with tables and chairs
Chef, cooking equipment, and kitchen tent
Hot water for drinking and washing purposes
Day pack rain covers
WHAT'S NOT INCLUDED FOR THE 7 DAYS INCA TRAIL PACKAGE TO MACHU PICCHU IN 2023?
Wayna Picchu: $75 USD
Sleeping bag (minus 8 ºC): $20 USD
Air mattress: $20 USD
Walking sticks: $15 USD per pair for the whole trek
Energy snacks such as chocolate bars, dried fruit
Last lunch after Machu Picchu
OPTIONAL UPGRADES: VISTADOME Train to Cusco instead of Expedition Train, please add $67 USD per person
Tips for your crew, guide, cook, and porters (Apple TRAVEL PERU staff receives a fair payment immediately after they finish their trip; tips are optional but greatly appreciated by them)
**HUAYNA PICCHU Mountain are optional treks within Machu Picchu Citadel that do not include a guide. The climb is usually done on your own after your tour of Machu Picchu Citadel. If you would like the extra hike to be guided, please request it in advance. There is an extra cost for this extra guided tour.
Why Apple Travel Peru
WHY CHOOSE APPLE TRAVEL PERU FOR THE INCA TRAIL PACKAGES TO MACHU PICCHU 2023?
Looking for an adventure in Peru's stunning Cusco region? Look no further than APPLE TRAVEL PERU! We specialize in creating unique trekking routes, including customized treks to Machu Picchu that other tour operators don't offer. With a variety of options ranging from 1 to 7 days, our classic Inca Trail and other treks offer personalized service and small groups, with an average of 4 to 6 trekkers and a maximum of 8.
Our high-quality service is all about offering fair prices and personalized attention in small groups. Our experienced guides will take care of all the details, from carrying your gear and preparing your meals to set up your tents and avoiding crowded campsites. We're dedicated to sustainable and responsible tourism practices, ensuring that you can immerse yourself in the stunning landscape of the Andes while feeling the magic of Pachamama.
When you choose APPLE TRAVEL PERU, you're choosing a company owned and operated by Ivan Rocca Huarca, a native of Cusco and an experienced guide who's passionate about providing the best possible service. All of our treks and tours are strictly and only operated by APPLE TRAVEL PERU, so you can trust that we'll work with you until you're satisfied.
We guarantee that all departures are 100% guaranteed. If you've booked and made your deposit, you're going on the adventure of a lifetime with us! And don't just take our word for it – check out our reviews and certificates of excellence on Tripadvisor. We come highly recommended, and we know how important it is to trust a reliable, honest operator when creating your dream adventure in Peru.
SMALL GROUPS
At Apple Travel Peru, we believe in providing a more intimate and personalized experience for our guests. To achieve this, we have a policy that limits our group size to a maximum of 8 people. This sets us apart from other tour companies that often operate with much larger groups. By keeping our groups small, we are able to provide more individual attention to each of our guests, ensuring a higher quality of service and a more enjoyable experience overall.
OUR TOP TOUR GUIDES FOR 7 DAY INCA TRAIL TO MACHU PICCHU 2023
At Apple Travel Peru, we believe that having the right guide can make all the difference in your travel experience. That's why we are proud to say that our guides are highly professional and fluent in English. They are not only knowledgeable but also passionate about Inca heritage and history.
Our guides are committed to ongoing personal and professional development. They conduct extensive research to ensure that you receive accurate and recognized theories in Inca and Andean culture. You can rest assured that you will be in good hands with our crew, who are not only knowledgeable but also fun-loving and great sports.
All of our guides hold degrees in one of the following fields: Archeology, Tourism, Botany, History, or Anthropology. We believe that their education and expertise provide a valuable perspective and enhance your overall experience.
OUR SUPER COOL PORTERS
At Apple Travel Peru, we believe that your trekking experience in Peru should be nothing short of incredible. That's why we offer fully portered treks that are designed to make your journey as comfortable and enjoyable as possible. Our expert guides will take you on a unique adventure where you can interact with locals, explore breathtaking sites and immerse yourself in the rich history of ancient Inca towns.
We take care of everything so that you don't have to worry about a thing. Our team of porters will carry your gear, prepare your meals, set up your tents in uncrowded campsites and make sure that you are well taken care of throughout your trek.
We pride ourselves on taking care of our porters too. We provide them with all the necessary equipment such as a jacket, sun hat, warm hat, t-shirt, pants, hiking boots, duffel bags, canteen, a girdle for protecting their spine, sleeping bags, mattresses, and travel insurance – all free of charge. Our porters come from isolated communities, and we give them the opportunity to work with our company, providing them with better economic circumstances as well as helping their children's education. We treat all our porters like family, and we're sure you'll feel right at home with us too.
OUR EQUIPMENT
Our team (Guides, cooks, and porters) and our equipment are what really makes Apple Travel Peru stand out from all of our competitors…. For all our adventurous hikes, we include the following items:
OUR TENTS: Enjoy a good sleep in our 4 season EUREKA Timberline tents. All our tents are 4-person tents, ONLY 2 will sleep in them, leaving lots of room to spread out comfortably and store your duffel bags. They also include a little vestibule in front, giving you some extra outdoor space to leave your boots and walking sticks so you don't have to bring in dirt.
OUR FOAM MATS: They are included to separate and insulate you from the ground.
AIR MATTRESSES can be rented for $20 USD.
OUR KITCHEN & DINING TENTS: The dining tent is used as our meeting room at meal times. This is a great time to sit back relax and catch up for a chat.
OUR TABLES & CHAIRS: The interior of the dining room includes tables and chairs with two doors on each side, adapting to the day's weather.
DUFFEL BAGS: Will be provided at briefing time the night before the trek.
MORE: Pillows, backpack rain covers, survivor t-shirts, and bio-chemical toilets are all provided on the trek.
OUR SERVICE PROJECTS
At Apple Travel Peru, we strongly believe in supporting the local communities that surround us. We are committed to responsible tourism and make it a priority to give back through various service projects and by hiring locally.
We take great pride in not only employing local people but also supporting their families and communities. The belief is in a holistic approach and we are thrilled to be able to make a positive impact on the lives of those around us. It brings us joy to be able to support our highland employees and their families in a meaningful way.
Important Info
IMPORTANT INFORMATION FOR THE 7-DAY INCA TRAIL PACKAGE TO MACHU PICCHU
Please read carefully the following information. It will help you answer all of your questions about our services and the 4-day Inca Trail to Machu Picchu-.
THE BRIEFING FOR THE 7-DAY INCA TRAIL PACKAGE TO MACHU PICCHU
The briefing will take place the night before the trek at 6 pm in our office, which is located at Calle Garcilaso 2010 Office 2012.
CAN I STORE MY LUGGAGE AT YOUR OFFICE?
Of course! During the classic trail, your main luggage can be stored at our office or at your hotel, whichever is more convenient for you. Please pack what you will need for your 4-day Inca Trail Trek.
HOW TO BOOK THE 4-DAY INCA TRAIL TO MACHU PICCHU FOR 2022?
FIRST, to book your 7 days Inca Trail Package to Machu Picchu for 2023, we need you to fill out our booking form by clicking on BOOK NOW on our homepage or click here on the link BOOK NOW.
Please be ready with the following information (FROM EACH PARTICIPANT in your group). We cannot purchase the Classic Inca Trail to Machu Picchu permit without the following information:
Personal information (your full name, exactly as on your passport):
Gender
Passport number
D.OB. (dd /mm/yyyy)
Nationality
*** We require each participant's passport at the time of booking as they will be needed.
SECOND, we require a deposit of $316.00 USD per person, in order to purchase a permit for the 4-day Inca Trail. You can make your deposit by clicking on the VISA or PAYPAL symbols on the top of our home page, or you can click on the VISA or PAYPAL symbols on our booking page.
WHAT ABOUT THE BALANCE?
If you're worried about high credit card fees while in Peru, don't worry! You have options to pay for your tour with Apple Travel Peru. You can pay in cash (in US dollars or Peruvian soles) at our office located in Cusco's historical center. There are also plenty of ATMs in the area where you can withdraw cash.
If you prefer to pay online, we accept payments through VISA or PayPal. However, please note that there is a 5.5% service fee charged by these payment platforms. To pay your balance through PayPal, simply log into your PayPal account and use our email address: appletravelperu@gmail.com.
We want to make sure that you have a stress-free and convenient payment experience. So, feel free to choose the option that works best for you!
HOW DO I QUALIFY FOR THE STUDENT DISCOUNT?
Peruvian Law requires that you are under 18 years old at the time of your trek or tour to Machu Picchu to qualify for the student discount. However, if you are a student who is 18 years or older, you can still receive the discount if you have a valid university ID card. For instance, if you book a trek at the age of 17 but turn 18 before your trek, you will need a valid university ID card to receive the discount.
University students must provide a copy of their ID card showing a photo, University name, and card expiration date. Cards must be valid for the current academic year only.
For all students from 11 to 17 years, the discount is $30 USD.
For children from the age of 2 to 11, the discount is $40 USD.
Children from the age of 0 to 2 are free.
All students must provide a copy of their passport at the time of their booking to get the student discount. Send us a copy at info appletravelperu@gmail.com
MAY I CHANGE THE DATE AFTER THE PERMITS HAVE BEEN BOUGHT?
Unfortunately, the answer is No. We cannot change the dates for the Inca Trail to Machu Picchu once the permits have been purchased. This is due to government regulations and the permits cannot be transferred or refunded. If you decide to cancel the Inca Trail, unfortunately, the deposit will not be refunded. We apologize for any inconvenience this may cause.
*** If you cancel your 4-day Inca Trail to Machu Picchu Trek, the deposit is not refundable at all!
DO I NEED MY ORIGINAL PASSPORT ON THE 7 DAYS INCA TRAIL PACKAGE TO MACHU PICCHU?
It is crucial that you bring your original passport when embarking on your classic Inca Trail Machu Picchu adventure, and that it matches the passport copy you provided when booking your permit. The park rangers will check your passport at the start of the trek and again upon arrival at Machu Picchu. The train company will also verify your passport before boarding the train. If you are in the process of renewing your passport, please send us a copy of your old passport to secure your permit, and we can update it once you receive your new one. As soon as you receive your new passport, please send us a copy of it as soon as possible.
WHAT IS THE WEATHER LIKE ON THE 7 DAYS INCA TRAIL PACKAGE TO MACHU PICCHU?
The weather can be quite unpredictable, especially if you're traveling through various regions. You may encounter different microclimates, each with its own unique weather patterns. Therefore, it's vital to be ready for any situation. To make sure you're well-prepared, we suggest wearing clothes in layers so that you can adapt to any weather changes easily. It's also essential to bring dependable rain gear in your day backpack, which will keep you dry and comfortable in case of sudden downpours or unexpected changes in weather conditions
WHAT ABOUT ALTITUDE SICKNESS?
Altitude sickness can be a concern for those traveling to higher elevations such as Cusco and the Sacred Valley. However, if you exercise regularly and spend a few days in the area, you can usually acclimate normally within 24-48 hours. It is always a good idea to consult with a physician for appropriate advice and medications.
To combat altitude sickness, we recommend drinking plenty of water, drinking coca tea, and using oxygen if needed. Our guides are trained to help you manage any symptoms of altitude sickness, so you can rest easy knowing you are in good hands. For more detailed information about altitude sickness, please refer to our FAQs section.
We offer the Cusco City or Sacred Valley Tours that you can book while you are acclimating. Check out our Day Tours on our Home Page.
HOW MANY PEOPLE ARE THERE PER GROUP?
The maximum group size is 8 persons. Usually, our groups are between 2-6 people. Apple Travel Peru specializes in SMALL and PRIVATE groups and provides personalized service.
HOW MANY COOKS/PORTERS ARE FOR THE GROUP?
You will have 1 cook per group. The number of porters depends on the size of the group. For a group of 2 trekkers, there will have 4 porters, 4 trekkers will have 6 porters, 6 trekkers will have 9 porters, 8 trekkers will have 12 porters.
DUFFEL BAG AND SMALL BACKPACK
Before embarking on your 4-day Inca Trail trek, you'll receive a small duffel bag to pack your clothes for the next four days. The Peruvian law sets a weight limit of 7 kilograms (15 lbs) for each duffel bag. This rule has been put in place to ensure the safety and health of the porters and animals. All bags will be weighed before being accepted, so it's crucial to stick to the weight limit. If your bag weighs more than 7 kilograms, you'll have to carry the extra weight with your day pack.
Out of the 7 kilos you're allowed, 2 kilos are reserved for your sleeping bag, and 1 kilo is reserved for your sleeping pad, leaving you with 4 kilos for your personal gear. Your team of porters will carry your duffel bag, along with the camping gear and food. Keep in mind that you won't have access to your duffel bag until the end of each day since the porters will always be ahead of the group.
During the Classic Inca Trail Machu Picchu trek, you'll need a day backpack that is big enough to hold your personal belongings, such as a warm jacket, a rain jacket, a camera, sunscreen, snacks, and water. A 30 to 50-liter backpack is usually sufficient.
IS THE TREK DIFFICULT, DO I NEED TO BE FIT?
The 4-day Inca Trail to Machu Picchu is an exciting and challenging hike covering a distance of 42km (24.4 miles) through the Andes in the Cusco region, with a maximum altitude of 4217m/13907ft. The second day of the trek includes climbing two mountains and it's important to be well-prepared and healthy before embarking on this adventure. It's recommended to be moderately fit and to have regular exercise. Prior to starting the 4-day Inca Trail to Machu Picchu, try to walk 15 km in a day or hit the gym. It's also important to spend at least 2 or 3 days in Cusco (3350m/11047ft) to acclimatize to the altitude.
ARE THERE PRIVATE FACILITIES ON THE 7 DAYS INCA TRAIL PACKAGE TO MACHU PICCHU?
Apple Travel Peru values the comfort and hygiene of their clients, particularly trekkers. They offer private and sanitary facilities for freshening up and individual tents and camping toilets with seats for guests. The camping toilet is set up in a designated tent for privacy, and the distance between the toilet tent and the campsite is carefully considered to ensure maximum comfort for guests. The facilities provided by Apple Travel Peru are much better than the ones provided by the government.
WHAT HAPPENS IF I AM UNABLE TO FINISH THE TRAIL?
In the unlikely event that you are unable to finish the 4-day Inca Trail to Machu Picchu due to health reasons, Apple Travel Peru will assist you to the nearest town for transportation. We carry oxygen on the trek for any respiratory problems, and in extreme cases, we can arrange a helicopter pick-up but at your own expense. (Insurance Required), and there are no refunds if you are unable to finish the Inca Trail to Machu Picchu. Those who have to be assisted off the trail are usually taken to Ollantaytambo, and if they recover quickly, they continue the journey to Aguas Calientes at their own cost and visit Machu Picchu according to the original plan.
ARE WE DROPPED OFF AT OUR HOTEL AFTER THE 7 DAYS INCA TRAIL PACKAGE TO MACHU PICCHU?
Absolutely! Included in our packages is dropping you off at your hotel on the return from your trek or tour. If you have booked your hotel in the Sacred Valley like Ollantaytambo or Urubamba, we will drop you there too.
AT WHAT TIME IS THE TRAIN'S DEPARTURE?
Apple Travel Peru includes dropping you off at your hotel on the return from your trek or tour. If you have booked your hotel in the Sacred Valley like Ollantaytambo or Urubamba, they will drop you there too. The train's departure time depends on availability, but the aim is to give you as much time as possible in Machu Picchu and enjoy the beautiful views on the way back to Cusco from the train. Therefore, you will take the train at 14:55 or 15:20.
HOW MUCH IS THE VISTADOME TRAIN UPGRADE?
The Vistadome train service has nicer seats, panoramic windows, and a ceiling. We will offer snacks and a dance show will take place on board. You can upgrade to the Vistadome Train for $67 USD. These trains run from Aguas Calientes to Poroy. We will you up in Poroy and drive you back to Cusco, which takes about 25 minutes. Please request in advance.
TIPPING
If you're pleased with the services you've received from our staff, we welcome any gratuities you may wish to offer. While tipping may not be a standard practice in your home country, it is an essential part of the tourism industry in many destinations we operate in. Tipping inspires our staff to provide exceptional service, and we will appreciate it. The amount you choose to tip is entirely up to you and should be based on the quality and duration of your trip. We want to emphasize that tipping is not mandatory and you can give if you feel you've received excellent service.
ARE YOU SUSTAINABLE?
Absolutely! Apple Travel Peru is committed to being a responsible tourism operator that prioritizes sustainability and local engagement. We believe in following universal principles of tourism that protect the environment and ensure that local communities benefit from tourism while respecting their culture and beliefs. To ensure that we achieve this, we have extensively trained all our local staff to understand, appreciate, and respect the local communities and places we visit.
MAP
4 DAY INCA TRAIL TO MACHU PICCHU MAP
Packing check list
WHAT DO YOU HAVE TO TAKE WITH YOU FOR THE 7 DAYS INCA TRAIL PACKAGE TO MACHU PICCHU?
Original Passport (it has to be the same one you have used for booking your trek)
Valid student card (if you booked as a student)
Good daypack (the smaller, the better)
Water storage: 2-3L reusable bottles (please do not bring disposable bottles)
Comfortable hiking boots with ankle support
Sleeping bag (can be rented from Apple Travel)
Headlamp: essential
Toilet paper
Good rain gear
WHAT TO PUT IN THE DUFFEL BAG FOR THE 7 DAYS INCA TRAIL PACKAGE TO MACHU PICCHU?
It's great to hear that as a Direct Local Tour operator, you provide a duffel bag and an extra porter to carry up to 7 kgs/15 lbs for each trekker, which includes the sleeping bag, mattress, and extra clothing. It's also important to note that the weight limit is set by Peruvian law to protect the health of the porters or horses, and all bags will be weighed before being accepted. If a trekker requires more than 7 kgs, they will need to carry the extra weight with their day pack. It's recommended to allocate 2 kg for the sleeping bag and 1 kg for the sleeping pad, leaving about 4 kg for personal gear. This information is helpful for trekkers to pack appropriately for the Inca Trail to Machu Picchu.
2 t-shirts
2 hiking pants at least
4 sets of undergarments
3 sets of hiking socks
2 Fleece/ Thermals
Warm clothes, down jacket — 2nd campsite temp around 3º C.
Waterproof gloves (even if they are ski gloves, take them)
Comfortable shoes for camp
Quickdry towel. We provide small ones, but you might prefer something larger.
A small bottle of soap: we provide warm water each day to wash.
Battery Charger: No electricity along the trek
Large plastic bags will be provided at the office — Please ask for them.
Sleeping bag: It has to be at least -15ºC – This can be rented from us for $20 USD.
TOILETRIES
Face moisturizer
Hand sanitizer
Wet wipes
Toothbrush and toothpaste
Personal medications
Personal first aid kit
WHAT TO PUT IN THE DAY BACKPACK FOR THE 7 DAYS INCA TRAIL PACKAGE TO MACHU PICCHU?
We highly recommend a small backpack of 30 to 40 Ltrs for hiking during the day. A big backpack will not be allowed into Machu Picchu. The remainder of your belongings will be in your duffel bag at camp.
Water: Please supply your own water until the first lunch stop. Please bring your water bottles.
Sun hat
Sunscreen
Insect repellent
Headlamp: essential
Wool hat
Rain gear
Fleece
Snacks like chocolate bars, cereal bars, or dried fruit
Rain plastic poncho
Gloves
Camera
Hand sanitizer
Toilet paper and a small plastic bag for waste
Extra money for souvenirs, drinks & tips