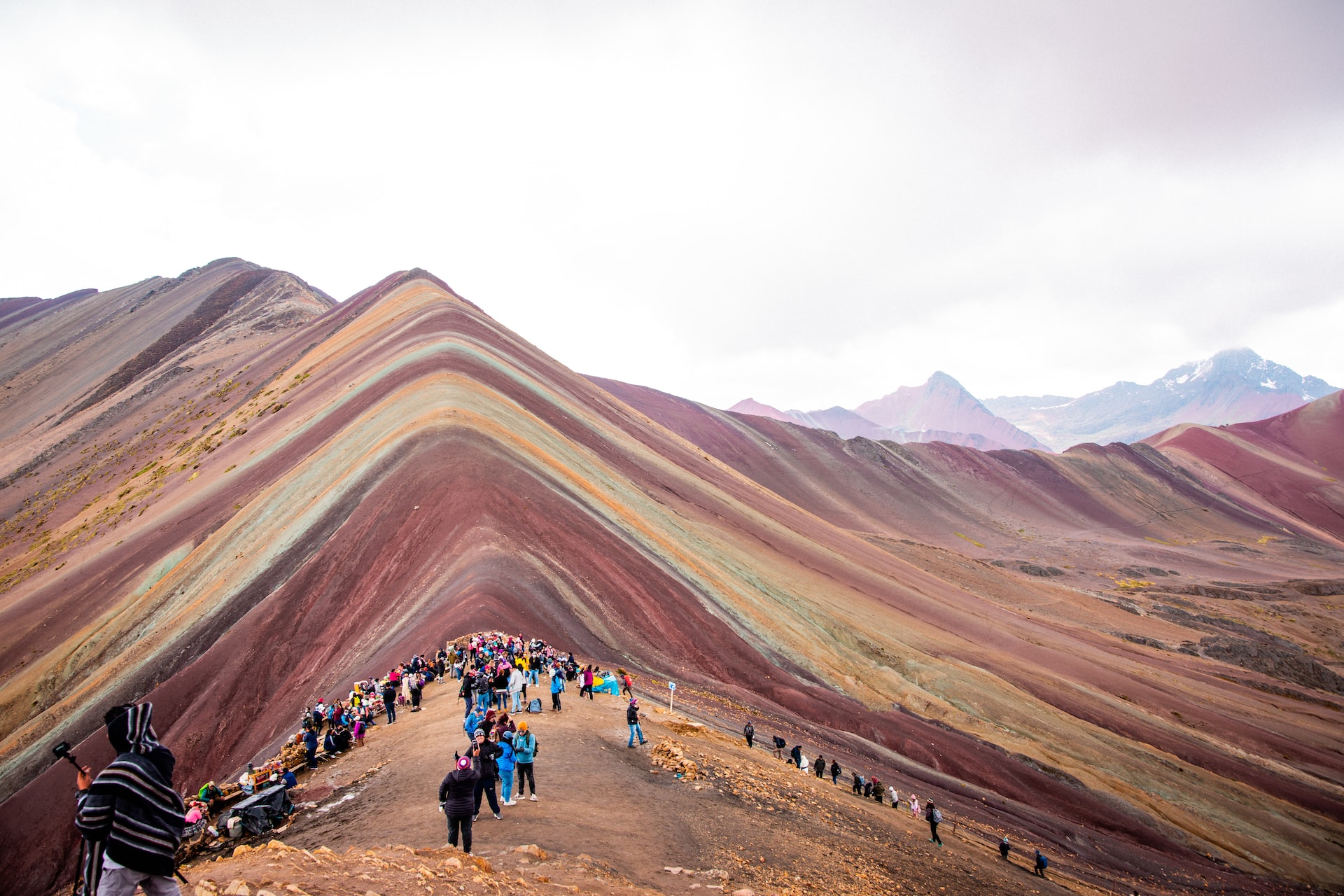 Rainbow Mountain in Cusco, Peru
The Rainbow Mountain Trek in Cusco has become incredibly popular in recent years, making it the second most visited site in Peru, after Machu Picchu. The mountain, known as winicunca in Quechua or the montaña de 7 colores (seven-colored mountain), is a must-see for anyone who appreciates breathtaking landscapes and stunning scenery. It is nestled deep within the Andes and was previously only accessible to trekkers on the Ausangate Trek. However, now you can experience this natural wonder in all its glory on a shorter 1- or 2-day hike.
Biosafety protocol for COVID-19 to visit the Rainbow Mountain
The tour to Rainbow Mountain will have restricted hours that will be from 6:00 am to 1:00 pm.
A group will consist of a maximum of 9 people, including the tour guide and staff.
Travelers entering Rainbow Mountain must wear a mask.
Travelers must maintain a social distance (of at least 1 meter) as a minimum established by the Ministry of Health.
Body temperature will be measured at the entrance to the mountain.
Only a maximum of 20 minutes will be allowed at the viewpoint of Rainbow Mountain.
Travel agencies, tourist transport, and restaurants will only be able to attend with 50% of their total capacity, this is to guarantee compliance with biosafety protocols.
What Rainbow Mountain offers?
End elevation: (5040 m/ 16,535 ft).
Trail: The dirt path trail to the top is flat for about 70% or so, with a gradual ascent for 20%, and then quite a tough steep ascent for the last 10% or 250-350 meters.
Walking time: Walking to the top (with a few breaks along the way) in approx. 1 hour 20 minutes, and then return to the bus station in 45 minutes.
Driving time: 3 hours one way, and 6 hours round trip
Difficulty: Moderate to difficult, depending on the level of physical fitness.
Renting horse: 60 soles one way and round trip 90 soles.
Entrance fee: 10 Soles.
Starting elevation: (4,638m / 15,216 ft)
Hiking Distance: (8 km / 4,97 miles round trip)
Duration of the complete day: 11 – 12 hours.
Driving distance from Cusco: (62 Miles/100 km)
Elevation difference during trek: (400 m /1318 ft)
WHY IS RAINBOW MOUNTAIN PERU COLORFUL?
The varying colors seen in sedimentary rocks are a result of diverse environmental conditions and mineral content during their formation and alteration. For instance, sandstones may display yellow or brown stains due to the presence of oxidized limonite or goethite. The introduction of iron oxides results in a dark red pigment, similar to rusting of nails. Green hues, on the other hand, may be attributed to iron silicate or chlorite clays. Additionally, the presence of iron sulfide causes the rocks to appear metallic yellow due to the sulfur content.
PREPARE FOR THE ALTITUDE
Altitude sickness is a common condition that can affect anyone regardless of age or physical fitness. It is difficult to predict who will be badly affected by it, and even young and healthy people are not immune. While some travelers may only experience a mild headache and dizziness that subsides in a day or two, others may experience more severe symptoms.
To avoid altitude sickness when hiking Rainbow Mountain in Cusco, we recommend getting acclimated to the altitude beforehand. If you're short on time, consider talking to your doctor about taking altitude sickness medication like Acetazolamide or Diamox, or try drinking coca tea or chewing coca leaves. These natural remedies have been used for centuries by the locals to help combat the effects of high altitude.
IS THE RAINBOW MOUNTAIN TREK WORTH IT?
Yes, it is totally worth it, because you don't only see the rainbow mountain, you see the Majestic Ausangate glacier, the red valley, and the amazing landscapes of the Andes.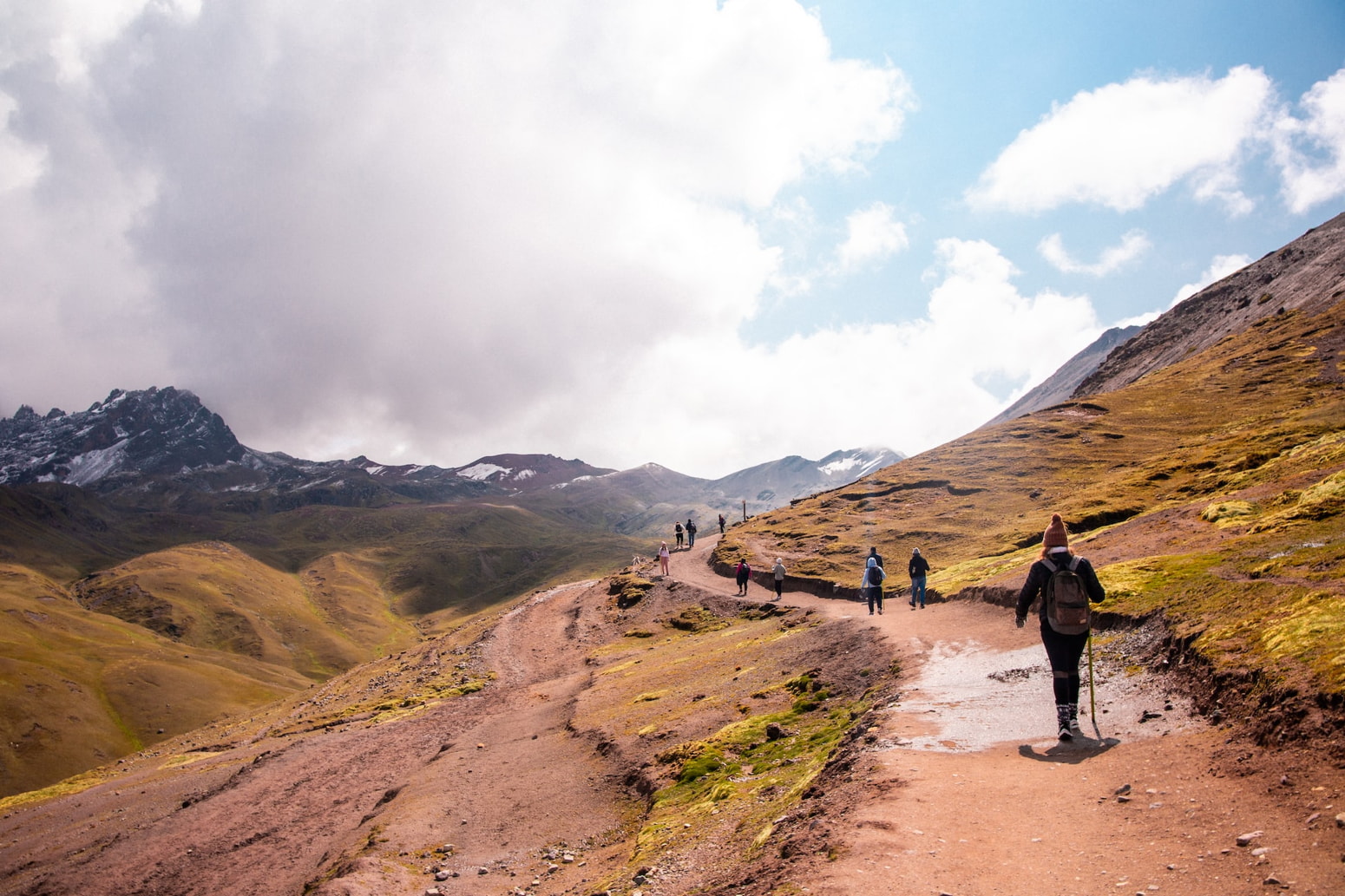 WHERE ARE RAINBOW MOUNTAINS?
Rainbow Mountain Vinicunca is a beautiful natural wonder located in the southeast of Cusco, Peru, between the Cusipata and Pitumarca districts, in the provinces of Canchis and Quispicanchis.
BEST TIME TO HIKE THE RAINBOW MOUNTAIN
If you're planning to hike to Rainbow Mountain, the best time to do so is from April to October when the weather is usually dry and sunny. The clear blue skies during this period offer an unobstructed view of the magnificent mountain peaks.
On the other hand, the wet season from December to March can make hiking Rainbow Mountain a muddy and unpleasant experience, with mist and rain obstructing the view. It's best to avoid this time of year if possible.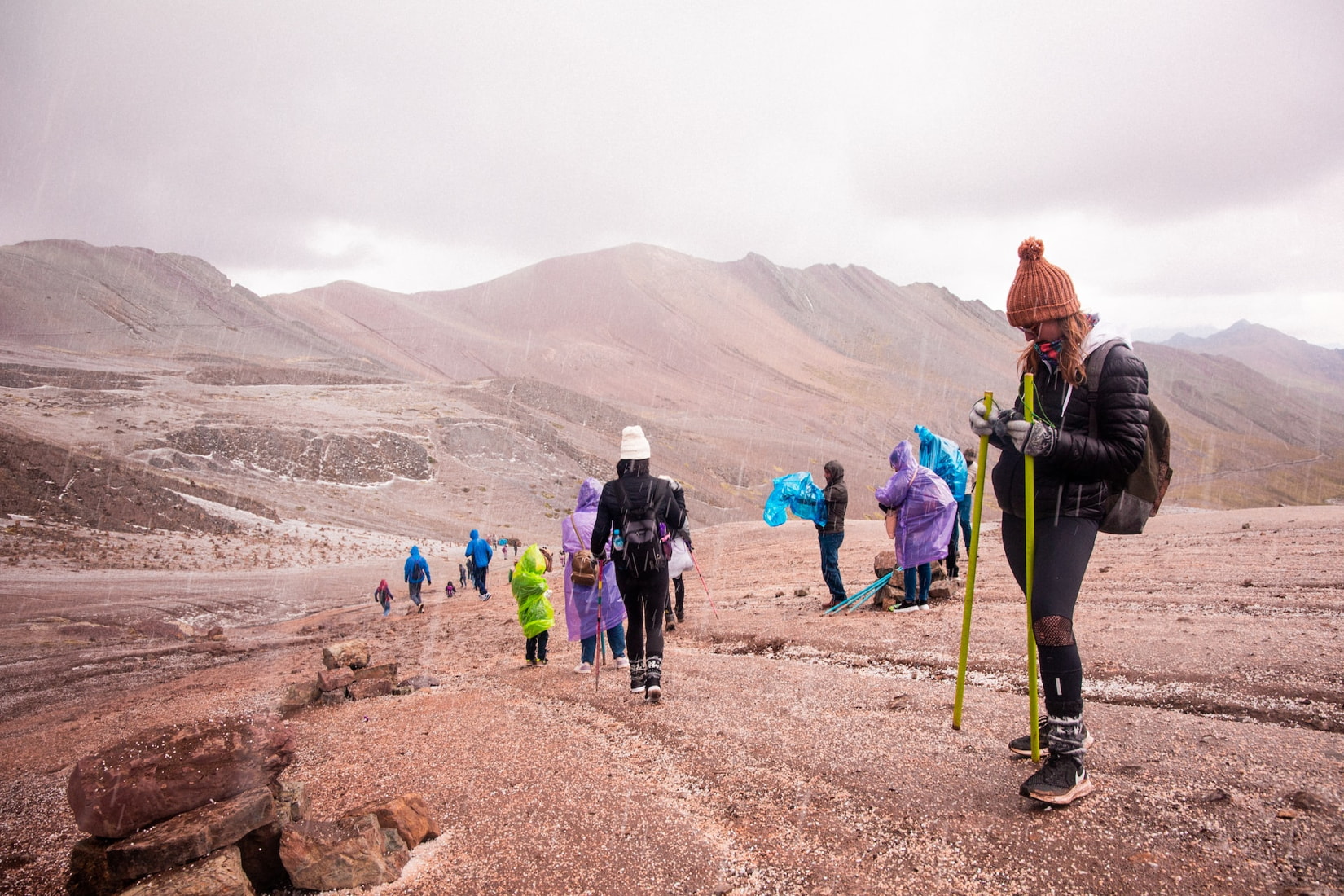 RAINBOW MOUNTAIN WEATHER
The weather at Rainbow Mountain can be unpredictable, with sudden changes in temperature and weather conditions. It can be quite chilly in the early hours, and you might experience both sunshine and snowfall. It's best to be prepared for all seasons by wearing layers and bringing a rain jacket, sunglasses, sunscreen, and plenty of water.
ARE THERE RESTROOMS ALONG THE TRAIL?
There are basic bathroom facilities available at the bus station, but they are not well-developed and don't have any toilet paper. It's recommended that you bring your own roll of toilet paper just in case. There are no restrooms at the top, so make sure to use the last toilet at the beginning of the first uphill.
DO YOU RECOMMEND A 1- OR 2-DAY TOUR?
For those short on time, a one-day tour to Rainbow Mountain is an option, but it can be quite tiring as it involves an early 3 am pick-up, a 3-hour drive to the trailhead, 4 hours of trekking, and then the return drive. A two-day tour allows for a more leisurely pace, with a better chance to arrive at the mountain before the crowds and camp closer to Rainbow Mountain, taking in the stunning landscape at a more relaxed pace.
USEFUL INFORMATION
The earlier you leave Cusco, the better, as you will arrive at the top before it gets crowded.
Rainbow Mountain is actually quite a small site with a single-access trail for all hikers. The mirador is already so crowded due to tours arriving at the same time, so it is difficult to take a picture without the crowd.
The Rainbow Mountain trail is easy to follow and most tour guides will leave their customers to hike alone at their own pace. But, if it starts raining then the trail will quickly turn slippery and muddy to traverse.
We recommend you visit on a sunny day when the colors are the most vivid. When it is raining or misty, colors can be darker, and it would be hard to avoid disappointment.
Do not forget that health and safety always go first. If you start to feel dizzy, nauseous, get a headache, or feel tired during the trek, do not continue and get back to a lower altitude as soon as possible.
If you plan to visit Rainbow Mountain in Cusco, you must really add Red Valley to your itinerary.
Only a few meters away from the bus station stand a lot of local people offering horses for S/90 for a ride to the rainbow mountain. In case you are out of breath or want to enjoy the amazing landscape from horseback, go for it.
You will ride a horse for approximately two-thirds of the trail, but they can't keep going on the steepest part so to reach the viewpoint, you will have to hike anyway.
THERE ARE ALTERNATIVES!
There are a few excellent alternatives to the classic Rainbow Mountain in Cusco which will take you away from the crowds but still allow you to enjoy the same or similar multicolored ranges. Here they are:
Palcoyo mountain
Pallay poncho mountain
Red valley